Toyota Fortuner 4x4
Minimum daily rent:
5 days
Transmission:
Automatic 5-speed
Insurance:
Collision Damage Waiver (CDW)
Equipment:
GPS, MP3, USB, Bluetooth, Rear camera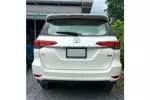 Toyota Fortuner is the best in our range, a beautiful 7-seat all-wheel drive SUV. If you have 6 or 7 people and luggage, or just like to sit higher on the road and feel safe, this might be a good choice for you.
Exterior
The Toyota Fortuner is our largest car yet with plenty of room inside. 4WD (although this is not usually required here), air conditioning and radio / CD player, USB connection and Aux input. A good 2.8-liter engine ensures that there is no shortage of power. Good safe comfortable drive.
Insurance: Collision Damage Waiver (CDW)
Your car comes with standard damage cover (CDW) with an excess of up to THB 10,000. If the bodywork is damaged or if the car is stolen, we could charge you up to the excess amount.
Required Document on Pickup Date
• Original valid Thai ID card or Passport (for Foreigner) of the renter and additional driver (If any)
• Original valid Thai driving license or International driving license (for Foreigner) of the renter and additional driver (if any)